Social Networking Tools for Your Members
(within the Safety of your Church Site)
Let's face it, the internet isn't about technology anymore. It's about relationships! The internet allows us to interact with our friends using blogs, instant messenger, chat rooms, and email. Now you have your own secure private online community for all your members. While Facebook is designed to keep you connected with your existing friends, MyFlock is designed to initiate new relationships with others that attend your church.
In the online community, your members begin by completing their own personal profile entering information on their likes and dislikes as well as their background on work, family, spiritual life, etc.
Once the profile is completed, then there are numerous tools that allow the members to connect with each other. A few of the more popular are listed below:
Top 10 Most Like Me...
Find Someone Who...
Integrated Instant Messenger
Private Church Chat Room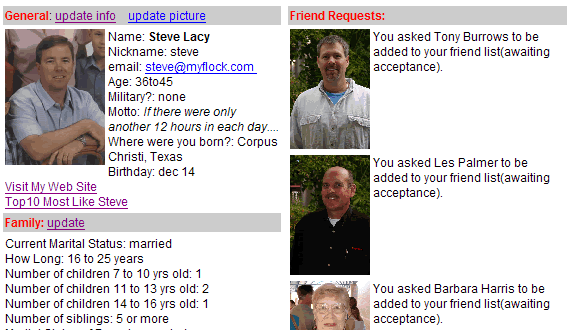 Your members will begin to connect and interact everyday online. The fellowship and level of community will reach new levels in your church within a few days after you start your online community.

Now integrated with Facebook!