Connect Safely

When you join MyFlock.com, you're in good company. You'll be joining the thousands of other church members who use MyFlock to connect with those within their church and other christians outside their church walls.
Only members with a valid login are allowed into the MyFlock system. As you complete your profile, you determine who can view your profile.

Plus you get your own profile, blog, forum and other tools that utililize the latest security to ensure you're safe online. And unlike MySpace.com, you won't be exposed to distasteful ads, immoral sites or anything you wouldn't let your kids view.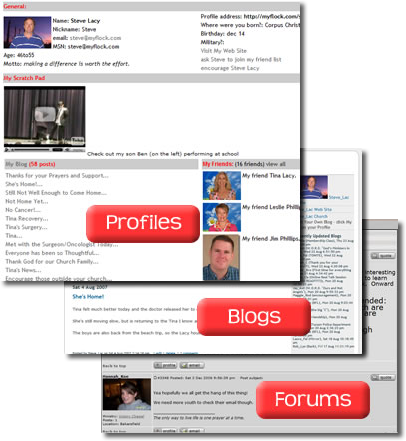 Also when you join MyFlock.com, a free powerful church web site and church management system is created for free! Use the free MyFlock church site as your church's web site and member management system. You have hundreds of designs to choose from, plus you or anyone you designate can update the site.

Now integrated with Facebook!